Experience Seamless Online Reporting with IntegrityCounts
IntegrityCounts Web Intake Reporting
Keep the lines of communication open for employees who prefer to file a report themselves online instead of phoning into a hotline. The IntegrityCounts web based portal is quick and intuitive and minimizes the number of clicks and pop-ups.
The IntegrityCounts portal will collect, assign, and track cases, giving management insights into cases that need immediate attention and will seamlessly escalate high priority cases in a timely fashion.
How it Works
Multilingual web form can be used on any device, from anywhere in the world.
Report

Reporter follows the questionnaire to communicate their concern.

Anonymity

The Reporter chooses whether they file anonymously or transparently.

Review

The Reporter reviews the details they have entered prior to submitting the case.

Submit

The report is immediately submitted to the company's designated administrators.
Benefits of Web Intake Reporting
Quick and Powerful
anonymously report misconduct
Maximum Anonymity
provides total peace of mind
Easier Process
improves the reporting frequency
Faster Response
stay informed of immediate risks and threats
Regulatory Requirements
regarding the encryption of transferred and stored data
Customizable
forms that capture the data you need
Centralized Approach
real-time data collection and analytics
Dashboard
provides insights for informed decision-making
Inclusive Culture
where everyone feels comfortable speaking up
Customize the online experience
We work with our clients to ensure the online reporting experience is quick, easy, and intuitive for employees.
Custom Landing Page
Promote your program with a custom landing page that mirrors your brand colours, logos, vision, mission, and values.
Custom Case Types
Customize reported case types to best reflect your policies and procedures.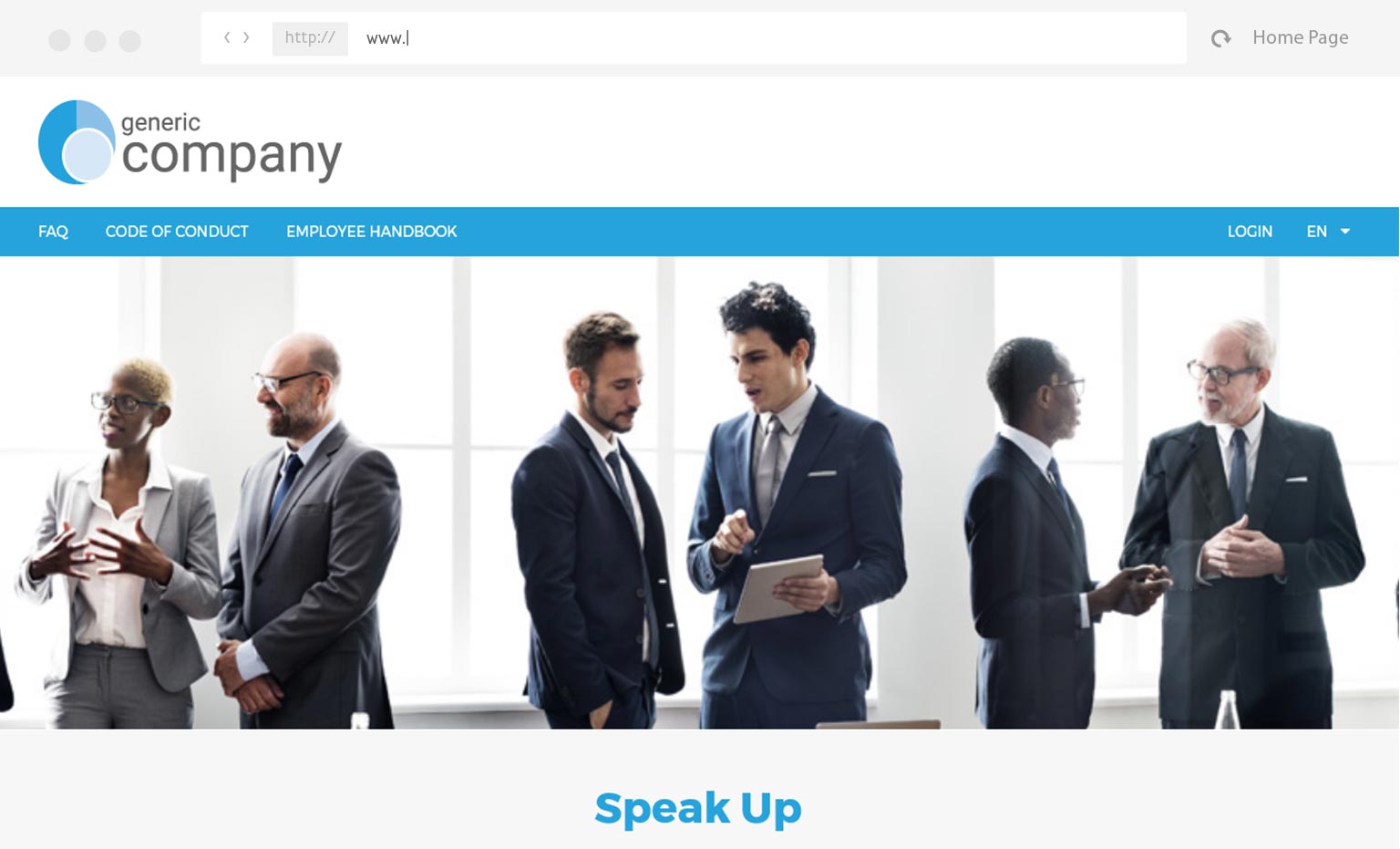 Data Privacy and Security
Our solutions are combined with advanced security and data management.
Data Storage
The IntegrityCounts system runs on a redundant virtual and network infrastructure. In the event of a single hardware failure the application will continue to be operational. There would be no downtime or data loss. Recovery points for our databases are every 10 minutes (RPO) to protect against data loss / data corruption. We can restore from our recovery points within 30 minutes (RTO).
Data Availability
The strongly encrypted data and software exist in multiple copies within the primary data centre to provide a solution that is highly redundant and resistant to failure. This guarantees greater than 99.95% uptime 24 hours a day, 7 days a week, 365 days a year. We also geo-replicate your data to the secondary Canadian Azure data centre to offer disaster recovery in the event of a complete data centre loss.
Data Transmission
All incident report details are encrypted both during transmission and while at rest, and WBS maintains strict controls over who has access to systems that store confidential data. The information is encrypted using TLS between the client and the server. Once on the server the structured data is encrypted into an MS SQL Azure RDBMS using Transparent Data Encryption (AES-256).
Customer Support
Our customer success program doesn't stop once your system is up and running.
Client Support
WhistleBlower Security prides itself on high quality and personalized service to our clients.
Customer Success Team
Our Customer Success Team is always available to you for any ongoing support to your account, or any questions you may have, no matter where you are located.
Knowledge Base
Our knowledge base hosts a number of self-service videos, eBook and other documents available to you at anytime.
Frequently Asked Questions
We now have an FAQ list that we hope will help you answer some of the more common ones.
No, the whistleblower reporting system, IntegrityCounts, is not linked to your organization's computer. IntegrityCounts is operated independently from your organization and hosted on separate servers inaccessible by any third party.
All that is needed is a modern browser with an internet connection and JavaScript enabled. The system is available for PCs, laptops, and mobile optimized for both Android and iOS tablets/phones. There are no special 'plug ins' required. Browsers supported include but are not limited to:
Internet Explorer 11
Google Chrome
Microsoft Edge
Firefox
Safari
Opera
The web intake form is available in 25 different languages, with new languages added every year. Currently the form is available in:
Arabic
Czech
German
English
Spanish
French
Hindi
Hungarian
Indonesian
Italian
Japanese
Korean
Malay
Dutch
Polish
Portuguese
Romanian
Russian
Swahili
Thai
Vietnamese
Simplified Chinese
Traditional Chinese
Tagalog
Turkish
Learn More About IntegrityCounts
Get your program up and running quickly. Contact us today!
Global Hotlines and Case Management
We have the tools to help you create and manage a speak-up culture.
Powerful Analytics
Gain valuable insights into the changes and events within your organization.
WBE Certified
The only Ethics Hotline provider on the market certified Women Business Owned.