UPDATE to post from below: It's 2015, and nearly 5% of Fortune 500 companies are still run by all-male boards of directors. More of this story here.
When It Comes to Gender Equality on Corporate Boards, Canada Sits Quite Snugly in the Middle of the Pack, Thank You Very Much.
But, is this a good thing? Should we be aiming for a higher position in the pack hierarchy?
Catalyst, a non-profit group, put out a study on the percent of board seats at companies held by women. Here's what they found, and I quote:
North America: Women hold 19.2% of S&P 500 board seats in the United States; and 20.8% of S&P/TSX 60 board seats in Canada.
Europe: Women's share of board seats ranges from 7.9% in Portugal (PSI-20 index) to 18.5% in Germany (DAX index) to 22.8% in the United Kingdom (FTSE 100 index) to 35.5% in Norway (OBX index).
Asia-Pacific: Women's share of board seats ranges from 3.1% in Japan (TOPIX Core 30 index) to 9.5% in India (BSE 200 index) to 19.2% in Australia (S&P/ASX 200 index).
Side note: way to go Norway!!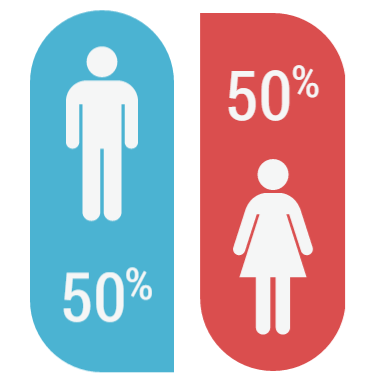 And:
"We have evidence and optimism that closing the gender gap on corporate boards is possible, yet the current numbers are simply not good enough," says Deborah Gillis, Catalyst President & CEO. "Companies that are not making diversity on boards a priority should be embarrassed. Smart leaders know that they can either lead the movement toward making profound and lasting impact, or be left behind. The way of the past is not the way of the future." [source]
Another survey put out by the Ontario Securities Commission in 2013, covered 1000 companies on the TSX. 448 responded and 57% had no women directors. 28% had one women director and 91% had no policy for identifying and nominating female directors.
So Is It Time for a Change?
Well, as the title suggests, should gender equality be built into corporate policies? We've often written about a Code of Conduct and Code of Ethics when doing your due diligence. These codes and policies need to be kept close, in that they should not just be written, passed around to the existing employees, and then placed onto a shelf only to be forgotten. We've explained that this could get you into trouble from regulators because they become out of date with modern expectations and protocol.
Back in the days when we were farming for our very survival, the work done by both men and women was equally important. We farmed, we made by hand everything we needed to survive, we raised the family, we survived again, repeat. But as times changed and we were able to purchase pre-made materials, the woman's position became less important… and then I suppose it just went downhill from there. Men took over running of companies, countries, legislation, voting and everything else. Women stayed at home and brought up the family… and hats off that's no easy task if I say so myself as a mother. That's just the way it went.
As I quoted Deborah Gillis earlier, the way of the past is not the way of the future. Starting this year, the Ontario Securities Commission adopted rules requiring companies listed on the Toronto Stock Exchange to disclose the number of women sitting on boards and holding executive positions. Companies must also disclose any policies related to women on their boards, as well as information about how the board considered gender representation when selecting directors.
Code and policies need to be looked at, updated, changed, and made more modern to align with regulations, protocols, environmental issues, cultural norms – basically the policy of ten years ago isn't the right policy for today, and we've stressed that if regulators come knocking at your door, this is one aspect of their investigation they will be looking at. So why not incorporate policies relating to women on boards when reviewing your existing document? According to Catalyst, "more women on corporate boards results in measurably increased corporate performance".


Source: http://www.cbc.ca/news/business/gender-equality-on-corporate-boards-study-puts-canada-in-middle-of-the-pack-1.2898318