Mechanic Disciplined for Reporting Cracks in 737
Now there's a headline you don't want to see.
A few months ago we wrote about how a former Southwest Airlines cargo manager was allegedly fired for blowing the whistle on the unsafe transportation of hazardous materials on Southwest Airlines' passenger planes. The whistleblower also questioned whether Southwest Airlines was properly reporting "discrepancies" to the Federal Aviation Administration (FAA).
In the past, Southwest was fined $12 million from the FAA for repair violations on some of its Boeing 737 jets dating back to 2006.
Anyone else not liking the words "repair violations" and "Boeing 737 jets" paired together in the same sentence?
Yeah, me neither!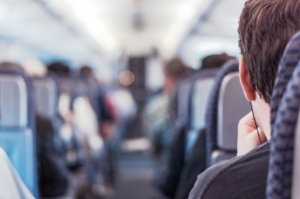 Recently Southwest Airlines settled a whistleblower lawsuit filed by a former mechanic of the company who claimed he was disciplined after he reported two cracks in the fuselage of one of the company's Boeing 737-700 planes during a routine maintenance check.
On Jan. 16, Southwest agreed to pay $35,000 in attorney's fees and expenses for mechanic Charles Hall, who discovered the cracks as he was doing a maintenance inspection on a 737 last July. Southwest also promised not to punish Hall or anyone who had backed him up in the dispute.
I'm sure I speak for most people – we agree!
SA maintenance protocol requires mechanics to perform certain investigations on airplanes before they are used for flights. One of those requirements is for a mechanic to walk around and perform a visual inspection on an aircraft. This is common amongst most carriers. During this "walk-around" inspection, the mechanic documented two cracks on the airplane fuselage, and the aircraft was removed and repaired according to protocol.
However, not long after, the mechanic was called into a meeting and was accused of going beyond his scope of duty. He was warned that any further violations could result in disciplinary action. The mechanic said in his complaint that Southwest's intent was to dissuade employees from reporting the discovery of cracks or other abnormalities.
Well speaking from a purely inexperienced, but 'well-travelled myself' sentiment, what other point of view, other than retaliation, is there to take on Southwest's approach to the employee? Considering the large number of tragedies that have happened in the last year or so, and with the recent allegedly deliberate crash of a Germanwings flight, the term 'due diligence' can't be stressed enough!
Speak-up Culture
Every business in every industry has its own risks associated with it. Code of Conducts are created to aid employees in mitigating these risks. But some industries have added risks no other has… oh I don't know, human safety maybe?
We'll ignore the fact that the mechanic filed the lawsuit under the AIR-21 statute (the Wendell H. Ford Aviation Investment and Reform Act for the 21st Century), which gives airline workers that are wrongfully disciplined or fired for reporting safety information the ability to go through an appeals process. (My laymen mind wonders why there has to be a statute to begin with. I mean we're talking about cracks in an airplane!)
Considering the seemingly elevated activity there's been around airline crashes lately, I would argue that no time is better than the present to ensure Code of Conducts are looked at again and disseminated throughout organizations.
I would also recommend one teeny tiny line item to add to codes – if any employee (or non employee) sees any glaring discrepancies in or around the body of any aircraft, please say something!
Southwest's argument against the whistleblower was that he was reprimanded not for finding any cracks and speaking up, but for working outside the scope of his duty.
An interesting argument. But is the Jr. Accountant who uses a whistleblower hotline for blowing the whistle on possible theft by a sales manager working outside their scope of duty also?
You could argue this three ways to Sunday. Every employee in an organization has their role to play. Finance does finance stuff, marketing does marketing stuff, and so on. However, each and every employee has a bigger role to play from a higher level in the organization.
Would the person in the mail room, who happens to notice some sort of financial error they have strong feelings about being fraud, not speak up? Is this out of their scope of duty?
Many organizations have a place where employees can speak up about the wrongs they see. Just because the wrong an employee sees is out of their 'scope of duty', doesn't mean that they can't alert management.
How else would that wrong get investigated and repaired. Employee tips are the #1 fraud [wrongdoing] detection method.
On behalf of the millions of us who travel, with nothing between us and the ground 37,000 feet below other than a few inches of metal, if someone reports a crack in the body of an aircraft, please pat them on the back and say 'well done!'
Let them speak-up! Here's 7 reasons to let your employees to speak-up!