Take Advantage of a Whistleblower Hotline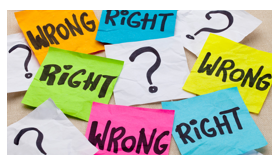 Most CEOs would agree that ensuring the ethical behaviour of employees and all stakeholders, is integral to the success of a business, and for maintaining positive relationships with all business partners. Many organizations have a Code of Ethics in place, but would they be able to provide documentation to prove it?
It's important that organizations put in place sufficient procedures to prevent bribery, fraud, harassment, and other unethical wrongdoings. With the media coverage, lately, surrounding the unethical business practices of some organizations – Wal-Mart, Hewlett-Packard, Avon, Halliburton – you've got a really good case for making sure that your ethics policy is communicated internally and externally and is adhered to and well-documented so you don't land the front page of newspapers around the country.
And to compliment a Code of Ethics, a whistleblower hotline and case management system should have a staring role in your campaign to promote good corporate governance and ethics. Not only can a strong whistleblower hotline and case management system protect you in the legal world by demonstrating you have the aforementioned "sufficient procedures" in place, but it clearly demonstrate to your employees, clients and stakeholders, that you are committed to doing business in an ethical manner and to eradicating misconduct.
An ethical hotline and case management system will:
Let your employees and stakeholders speak up without fear of retaliation. An anonymous, third party solution provides a safe place where all stakeholders can express their concerns.
Provide senior management with data and reports generated from submitted incidents to be used in a dynamic manner to help improve processes, protection of employees and business operations.
Show your employees that you take seriously their opinions and position in the success of the organization.
Set you on your way to continued business growth and success.
There is no one-size-fits-all solution for adopting a strong compliance program and whistleblower hotline. A good solution should be customized to fit the varying needs of different organizations. It should be dependent on the needs and ethics strategy of an organization. The integration of a strong compliance program, including a whistleblower hotline, is a powerful tool for any organization to implement in their proactive measures to manage their business success.
Waste, fraud and abuse of authority can all be combated by having an independent reporting mechanism that's available to your employees to report malfeasance. WhistleBlower Security should be one of the first places your employees can go to report on any perceived wrongdoing or risk.
Whether it's for regulatory compliance, financial transparency, corporate governance, employee, client, investor or patient relations, becoming WhistleBlower Secured™ will enhance your corporate integrity and empower your employees to contribute to an ethical workplace.