Trust doesn't always count when doing business…
Guest post by Emma Brown
Small business fraud hurts!
Okay so it sounds like a broken record.
So does "have you fastened your seatbelt?" until you realize you actually drove away unbuckled.
If you've never experienced any form of petty crime in your business, the 'small business fraud hurts' mantra tends to brush over your head like a breeze on a windy day.
Only to be forgotten, or ignored, until it makes its presence known.
And when it does make its presence known, you're pretty much gobsmacked and wonder what the heck happened!
So here's another example of how too much trust, lack of controls, and fraud hurt one small business.
It was a case that closed in September of 2015.
A woman was charged with two years in prison, and the reimbursement of the more than $455,000 that she stole from her former employer and friend.
It may seem a shock that a close friend could be possible of such horrible actions but it's a harsh reality. And as revealed in the court case, that is exactly what happened to the small business owner, Gilles, of G&G computers.
The owner hired an accounting firm to help him out and after a while, started becoming good friends with his main contact at the firm – a woman named Ellis.
Her seemingly good character and reputation gave him a level of trust he hadn't bestowed upon his other colleagues, and the pair soon became friends as well as business acquaintances.
All was obviously not as it seemed. Because during this period of friendship, Ellis committed 78 accounts of fraud against the company by falsifying documents, even forging them. Her good character had turned to "greed and self-interest" when the opportunity arose.
Like most fraudsters, she developed a carefully discreet document manipulation technique and forgery process that she was able to continue for over the course of five years.
She was able to steal over $455,000 from the unknowing company and only stopped her unethical and illegal actions when she was finally caught.
It's a tough blow learn that someone you trust is capable of committing crime like this right under your nose. The friend Gilles had trusted was the one robbing him of his hard earned money.
As tough as a learning experience as this was, it's not really that surprising that fraud such as this is one of the most common forms of business theft.
And one of the leading causes of fraud in the workplace is a lack of controls that allow dishonest people to take advantage of you and your company.
One study done by Statistic Brain suggests that 75% of employees have stolen at least once from their employer.
Mindboggling…
It's hard to really have a deep sense of how the minds of your employees work. Constantly looking over your shoulder all the time is a stressful way to conduct business and you're probably not psychic.
This is why it is so important to get a grasp on internal controls, processes and procedures.
Just because you're a small company doesn't mean internal controls, processes and procedures are too complex for you. You don't need a library of sorts listing pages and pages of policy.
A simple document will do that lists a few company rules, what is acceptable behaviour, and what to do if you see unacceptable behaviour.
Also, a simple third-party hotline that can be accessed anonymously and confidentially to report any unethical behaviour will help weed-out potential fraud. You can then address it quickly and stop it before it does too much damage to your business.
A third-party hotline also looks quite good working along side your internal controls.
More often than not this type of fraud is found out through employee tips – Statistic Brain shows that 23.5% of fraud is found out through tips that come from within the company.
One unfortunate fallout of this type of employee fraud is the absolute disappointment and shock that follows the realization that someone you thought you trusted took you for a ride.
Many business can recover from this type of fraud. Many won't and all the hard work that went into creating the business goes down the drain because of a lack of internal controls.
The most hurtful aspect is the human factor and the trust and respect that was lost.
Protecting your company before realizing it's too late is vitally important. Learn how today.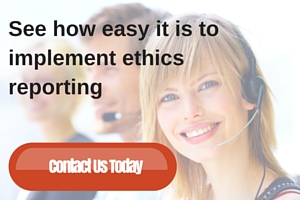 [citesource]
[source]Woman gets two years in $455,000 fraud case[/source]
[source]Employee Theft Statistics[/source]
[/citesource]