Global Ethics Hotline
The multilingual hotline is live-answered by professional agents in English, French, and Spanish.
Available in 150 languages
Live call-centre agents are empathetic and compassionate with the caller
Anonymous dialogue is facilitated between the reporter and the organization
A positive experience leads to a more thorough and meaningful report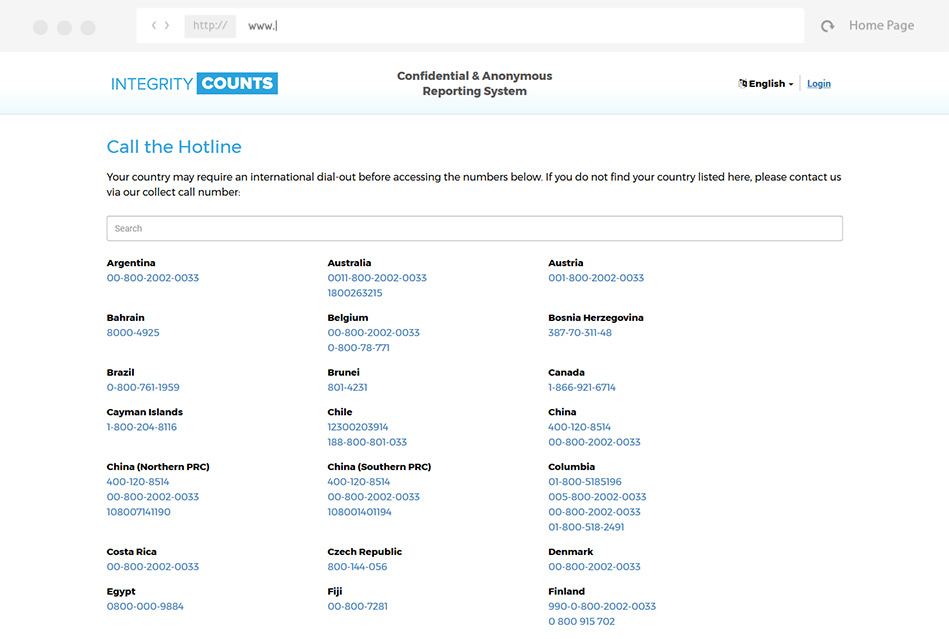 Web-Intake Reporting
The IntegrityCounts web based portal allows employees to visit the website independently and file a report online.
The portal is available in 26 languages so reporters can choose their language of preference
The form is designed to guide the reporter through a simple yet thorough questionnaire
Reporter can use the form from anywhere they have a secure internet connection
All that is needed is a modern browser with an internet connection and JavaScript enabled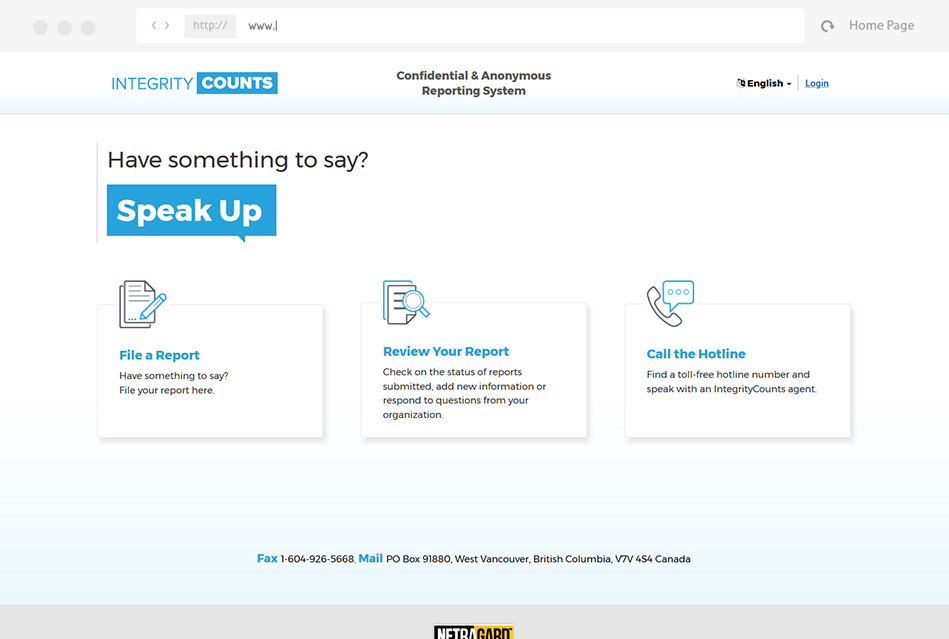 Versatile Case Management System
All complaints, regardless of how they have been submitted, are immediately entered into the IntegrityCounts case management system.
Data is stored in Microsoft Azure Canadian data centers and is stored logically separated from other client data
Intuitive collaboration and dialogue between the reporter and the organization to promote a swifter investigation
Real-time template reports show full trend analysis and status, and can be exported for use in other applications.
Sensitive report feature prevents company administrators from accessing reports they shouldn't have access to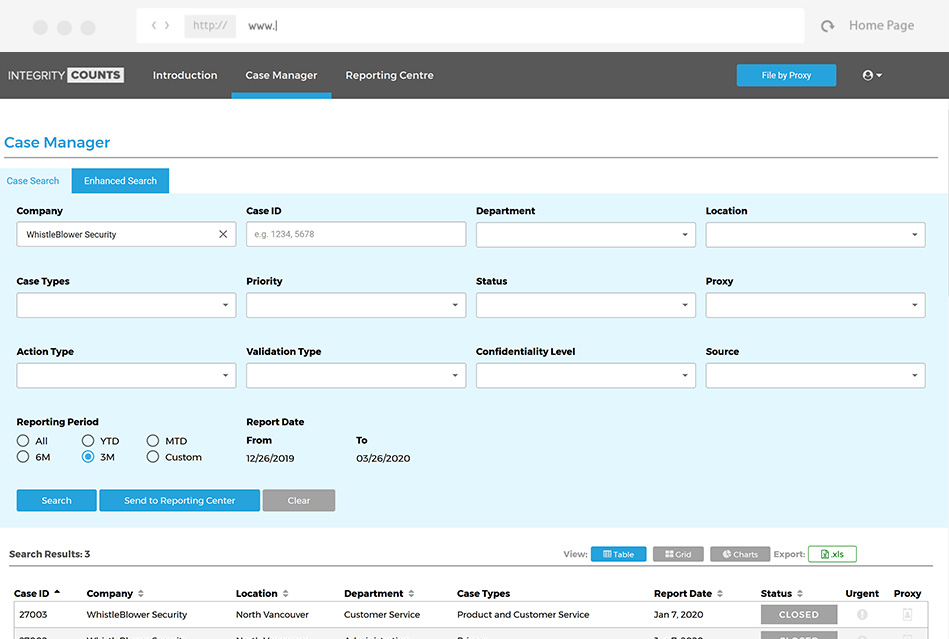 Robust Analytics and Reporting
IntegrityCounts offers a centralized, searchable database of all submitted reports that can be used to track and manage investigations.
Reporting and analytics puts the power of case data in your hands
Easily find the data your looking for with intuitive search capabilities
Gain important insight into your organization's culture and learn where problems may exist
Benchmark filtered data against previous periods
Historical Data Migration / Integration
We will Import your existing data or combine your data with another third-party case management tool.
Every integration is different, so we work with you to understand yours
We can integrate your IntegrityCounts data into a third-party case management tool
We can transfer your existing case data into our IntegrityCounts system
You won't lose your case history and important historical data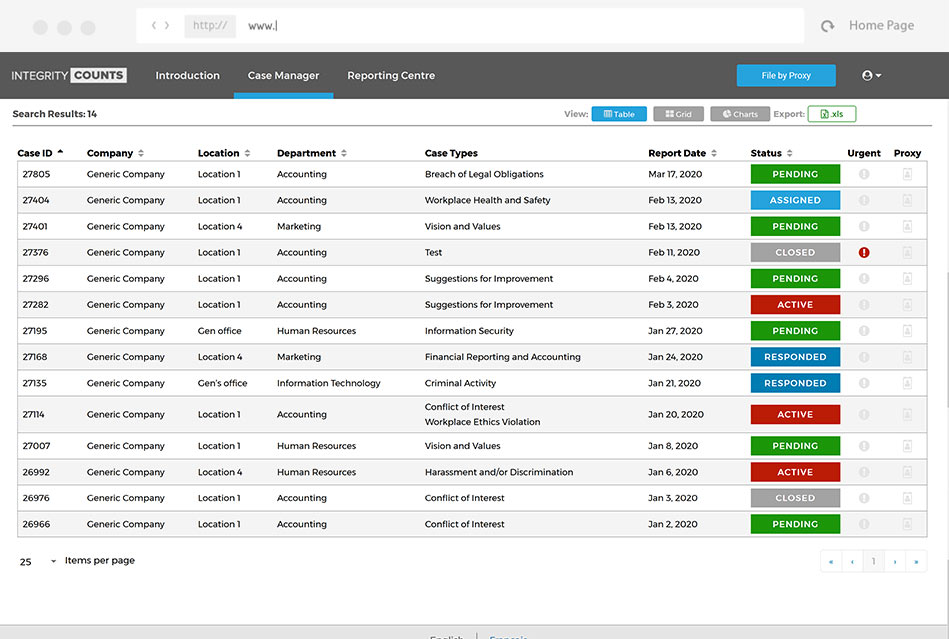 When employees witness misconduct, illegal activity, or unethical behaviour in the workplace, they should be empowered to anonymously and safely speak up about the wrongs they see. Multiple methods of outreach provides employees with different options to report on ethical violations.
The IntegrityCounts case management system offers a secure database of reported concerns and provides management with powerful and intuitive reporting and analysis of the entire database.
Frequently asked questions
We now have an FAQ list that we hope will help you answer some of the more common ones.
Why is outsourcing an ethics hotline better than having an in-house program?
WhistleBlower Security's Ethics Reporting and Case Management program, IntegrityCounts, offers third party transparency and a secure amalgamated database that enables our clients to proactively identify and react to trends within their organization. By encapsulating all incident related data in a single place, our clients are better able to holistically manage issues on a continual basis.
Our live-answer hotline Contact Center Agents are available 24/7/365 and are trained in empathetic and investigative techniques to support your employees when they do decide to come forward.
Overall, it is a comprehensive system that cannot be duplicated by an internal system with part-time support.
Is the hotline available in multiple languages?
Our toll free multilingual live hotline is answered by a bi-lingual agent, in English, Spanish or French and an additional 150 languages are supported by our interpretation partner in a three person call – our agent, the interpreter and the reporter. This ensures that the reporter is successfully able to file a complaint in the language of their preference.
For interpreted calls we target an average of one minute from the caller phoning into the call centre, to the agent procuring an interpreter. The current IVR allows the caller to choose from nine languages and will inform them to wait until an interpreter is available. The call is then managed by our agent along with the interpreter.
Is the web portal easy to use?
The IntegrityCounts web based portal is intuitive and easy to use. It allows the Reporter to visit the website independently and file a report online. The secure portal will guide the Reporter through a series of open and close ended questions designed to illicit the most pertinent information while creating filters to assist in overall reporting. A high degree of customization in the web portal ensures the program best reflects your needs and is simple to implement.
Are summary reports available monthly, quarterly and annually?
Yes, summary reports are available monthly, quarterly and annually. The Case Manager lists all complaints starting from most recently filed, displays the status of each complaint, including Pending, Assigned, Active, Responded, and Closed. The Case Search tool allows Reviewers to search for reports based on status, for example, showing all complaints that are currently Active.
Learn more about IntegrityCounts
Tell us more about what you'd like to learn more about!