Smart, Fast, and Efficient Ethics Reporting and Case Management
Workplace fraud can cost you more than just money. It can also damage your financial and corporate reputation. One mismanaged incident can lead to scandal that can leave your organization completely bankrupt and publicly shamed. What's worse, is that a majority of misconduct and unlawful activity goes unannounced even when staff are aware of what's going on. Fear of retaliation, harassment, suspension and even discharge prevent employees from speaking out. This allows serious issues to go unnoticed until it becomes too late.
Today, many countries have regulations in place to encourage whistleblowing practices and prevent retaliation from occurring. Businesses are required to have policies and procedures in place, but they aren't equipped with the tools needed to encourage employees to come forward. Many organizations lack the appropriate tools to manage the ethics reporting process. The IntegrityCounts platform is a powerful solution that enables your business to easily identify risks and respond immediately.
Toll Free Live Answer Multilingual Hotline
Available in 150 languages so reporters can file a report in the language of their preference
Call-centre agents are always live and are trained in empathetic and compassionate investigative techniques
Facilitate the ability to engage in anonymous and confidential dialogue between the reporter and the organization
A positive experience for the reporter leads to a more thorough report, providing the organization with quality information to enable a more effective investigation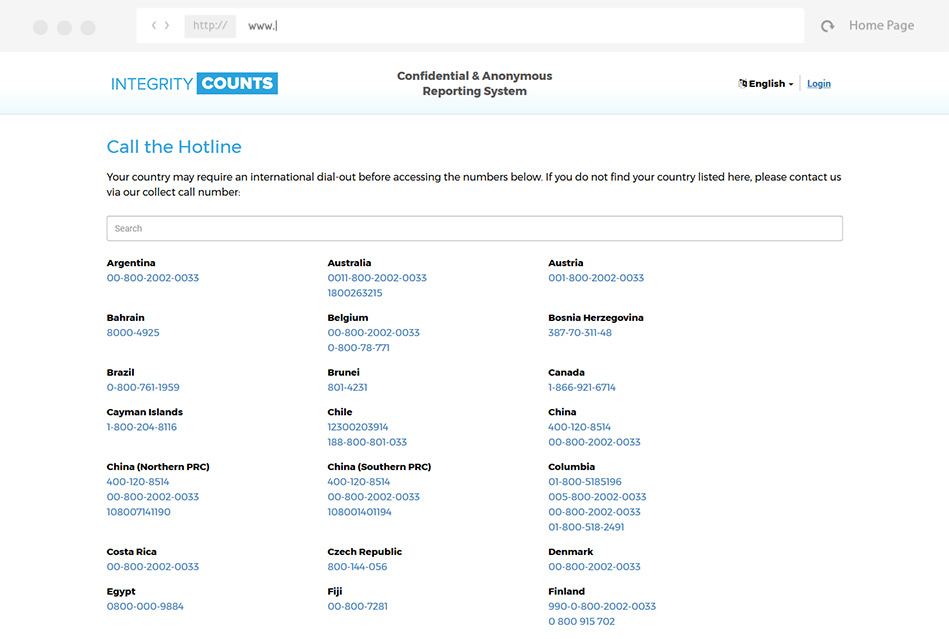 Web-Intake Reporting
The portal is available in 24 languages so reporters can choose their language of preference
The form is designed to guide the reporter through a simple yet thorough questionnaire
Reporter can use the form from anywhere they have a secure internet connection
All that is needed is a modern browser with an internet connection and JavaScript enabled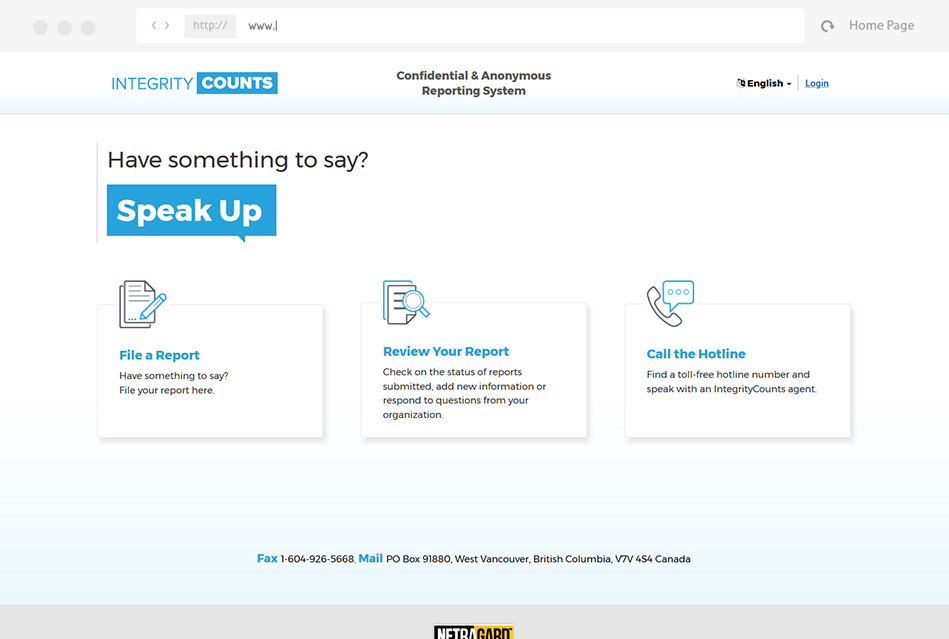 Versatile Case Management System
Data is stored in Microsoft Azure Canadian data centers and is stored logically separated from other client data
Intuitive collaboration and dialogue between the reporter and the organization to promote a swifter investigation
Real-time template reports show full trend analysis and status, and can be exported for use in other applications
Sensitive report feature prevents company administrators from accessing reports they shouldn't have access to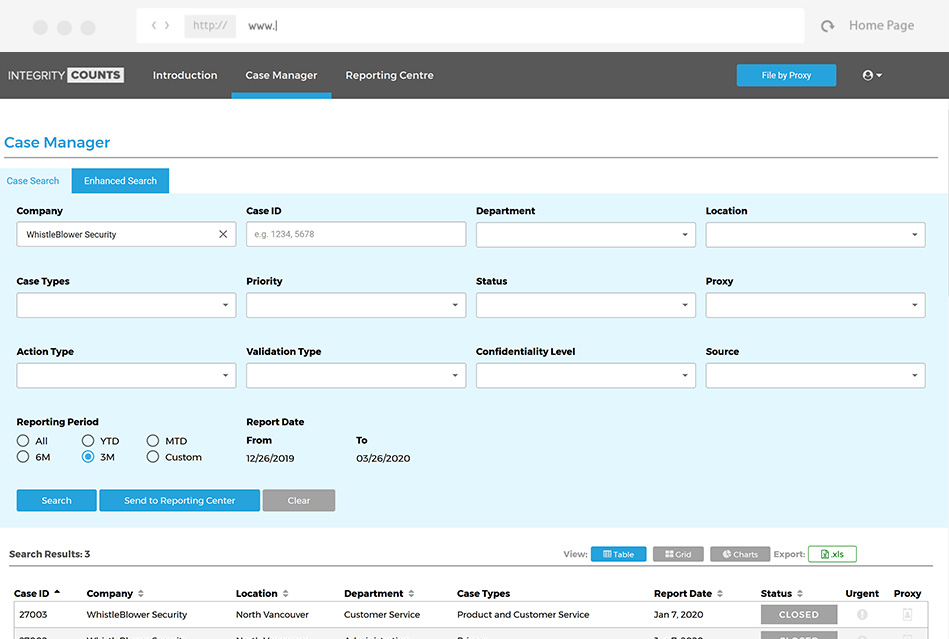 Robust Analytics and Reporting
Reporting and analytics puts the power of case data in your hands
Easily find the data your looking for with intuitive search capabilities
Gain important insight into your organization's culture and learn where problems may exist
Benchmark filtered data against previous periods
Historical Data Migration / Integration
Every integration is different, so we work with you to understand yours
We can integrate your IntegrityCounts data into a third-party case management tool
We can transfer your existing case data into our IntegrityCounts system
You won't lose your case history and important historical data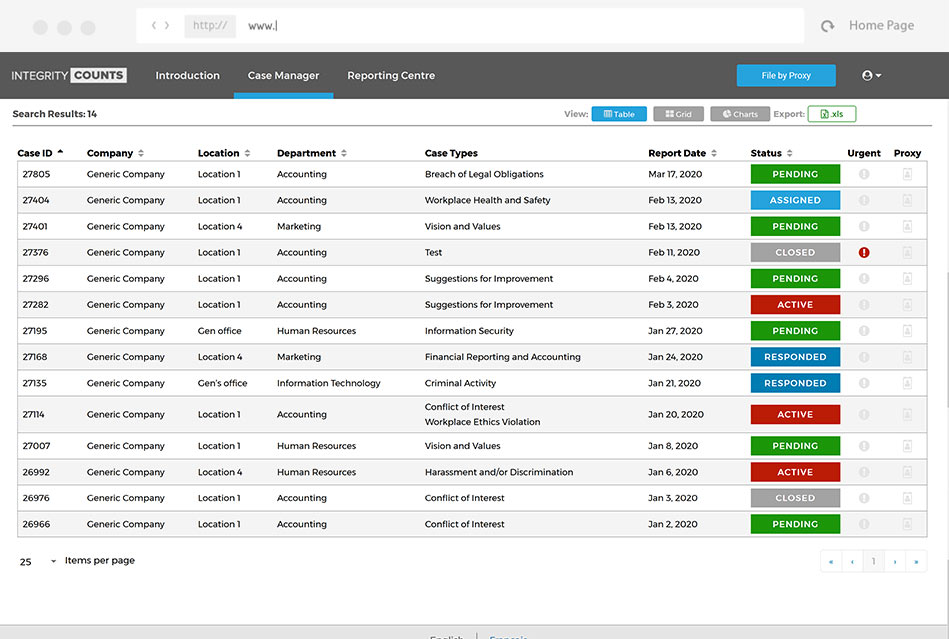 Empower Employee Contribution with an Easy to Use Whistleblowing System
IntegrityCounts is an easy-to-use confidential and anonymous ethics reporting system designed to increase the engagement between your employees and your organization. It gives your employees the power to speak up through our anonymous global hotline or by a secure questionnaire via our web intake system. Once a report is filed, employees can log back in at any time to add additional information or review the status of their report.
A Reporting System That Gives You Full Control
IntegrityCounts gives your compliance team full control over ethics reporting. Once an individual has filed a report, the information will be automatically populated to the dashboard. Our versatile case management system will safely store all data and provide you with a number of functions to sort and organize the information. Robust reporting and analytical tools allow you to utilize the data in a number of ways to gain deeper insights, speed up the investigation process, and flag urgent cases. You will have all the information you need to make informed decisions to mitigate risk and prevent future issues from occurring.
Get your program up and running quickly. Contact us today!
Learn more about IntegrityCounts