IntegrityCounts Reporting and Analytics
IntegrityCounts reporting and analytics provides an automated and scalable way to report on and analyze your data.
In-depth insights into the scope of your business gives you the power to enhance oversight, manage reports, reduce the cost of misconduct, and gain valuable insight into hotspots and cultural changes inside the organizations.
Key Features
Customizable reporting provides in-depth analysis into the company's data.
Comprehensive Dashboard
IntegrityCounts reporting and analytics is designed with your business in mind. The comprehensive dashboard allows you to easily navigate, analyze and understand your data. As reports are filed, trends and hotspots are identified giving you the immediate visibility you need to take action.
Proxy Reporting
By extending the capability of multi-reporting, management can file reports on behalf of employees, never leaving a report undocumented. All reports are secured in the IntegrityCounts case management system allowing management to filter, search and pull the information needed for further analysis.
Performance Indicator
Develop strategic and operational improvements with powerful analytics that will highlight areas of strength and weakness, allowing you to focus your attention into initiating corrective action and resolving issues quicker.
Intuitive Analytics
IntegrityCounts makes it easy to achieve deeper insights into how misconduct is occurring and what can be done to prevent it from happening again in the future. Compare knowledge and data quarterly or annually to benchmark metrics, uncovering opportunities to enhance your overall ethics program.
How it Works
Powerful reporting and analytics provide insight into your corporate culture.
Real-Time Reporting

Ad hoc reports can be run in real-time, and show full trend analysis and status.

Case Search

Quickly view the status of each investigation as well as how many complaints are deemed urgent.

Enhanced Search

A more robust search option that gives users a deeper insight into ethics and compliance trends.

Enhanced Analytics

The power of data is in your hands so you can search and filter complaints to identify areas of concern.
Why Use IntegrityCounts Reporting and Analytics
Intuitive Interface
holds all your data in one place
Customizable
dashboard to visualize key metrics
Powerful Reports
quickly analyze and identify risks and trends
Visualize
detailed reports so you can see your data
Design
reports tailored to your specific needs
Allocate Tasks
share information privately and securely
Powerful Analytics
You have control over the types of reports you want to see, and how you see them.
Comprehensive Reporting
Reporting and analytics capabilities help inform leadership on a variety of issues.
Present to the Board
Customize your reporting data to present to the Board.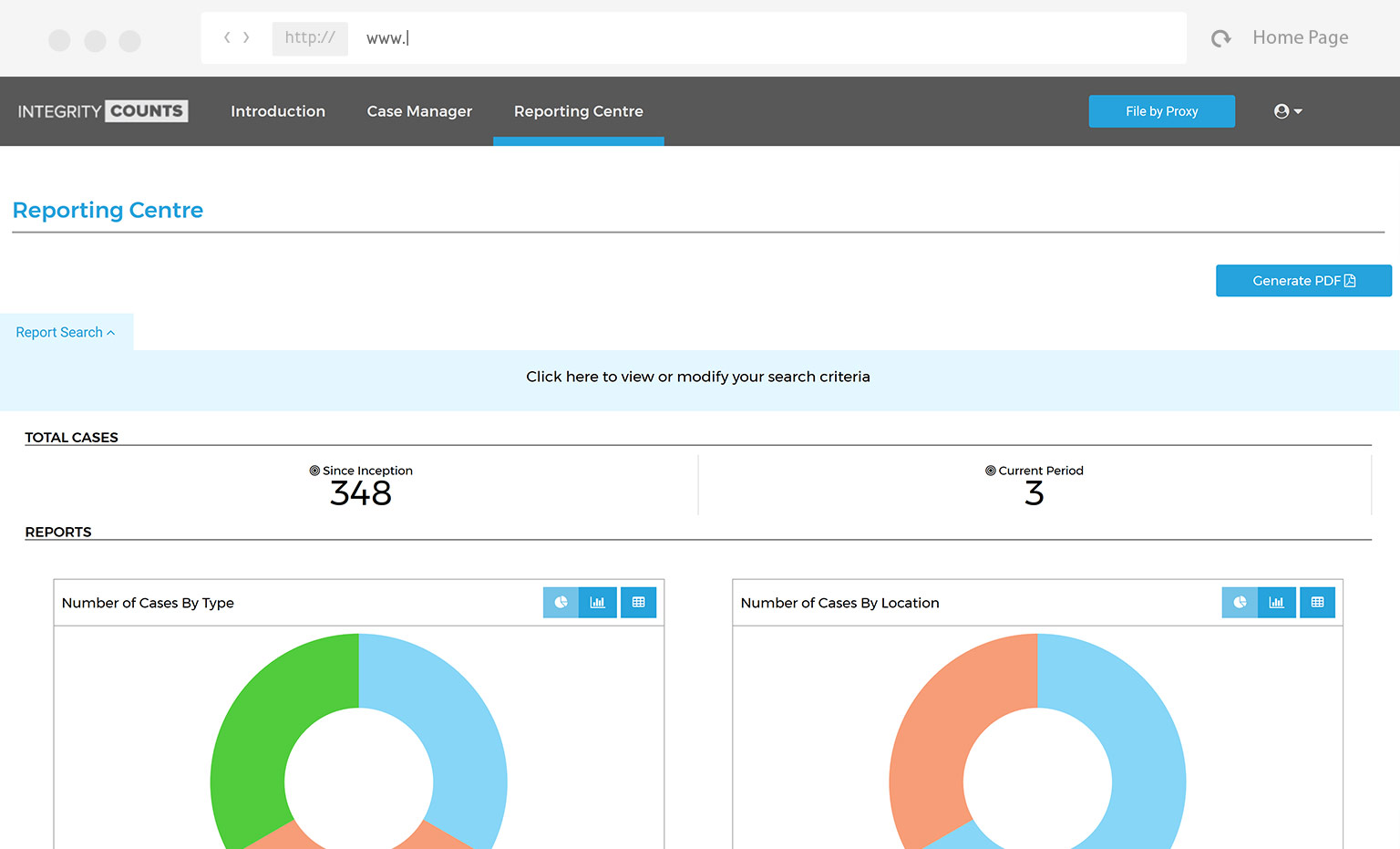 Data Privacy and Security
Our solutions are combined with advanced security and data management.
Data Storage
The IntegrityCounts system runs on a redundant virtual and network infrastructure. In the event of a single hardware failure the application will continue to be operational. There would be no downtime or data loss. Recovery points for our databases are every 10 minutes (RPO) to protect against data loss / data corruption. We can restore from our recovery points within 30 minutes (RTO).
Data Availability
The strongly encrypted data and software exist in multiple copies within the primary data centre to provide a solution that is highly redundant and resistant to failure. This guarantees greater than 99.95% uptime 24 hours a day, 7 days a week, 365 days a year. We also geo-replicate your data to the secondary Canadian Azure data centre to offer disaster recovery in the event of a complete data centre loss.
Data Transmission
All incident report details are encrypted both during transmission and while at rest, and WBS maintains strict controls over who has access to systems that store confidential data. The information is encrypted using TLS between the client and the server. Once on the server the structured data is encrypted into an MS SQL Azure RDBMS using Transparent Data Encryption (AES-256).
Customer Support
Our customer success program doesn't stop once your system is up and running.
Client Support
WhistleBlower Security prides itself on high quality and personalized service to our clients.
Customer Success Team
Our Customer Success Team is always available to you for any ongoing support to your account, or any questions you may have, no matter where you are located.
Knowledge Base
Our knowledge base hosts a number of self-service videos, eBook and other documents available to you at anytime.
Related Features
Explore the IntegrityCounts Ecosystem.
Frequently Asked Questions
We now have an FAQ list that we hope will help you answer some of the more common ones.
You can run ad hoc reports in real time. There is no delay in accessing your reports.
With the powerful search tool, you can reach deep inside your entire database and find any search terms. This could be in the form of a person's name, a case type, a quotation, or any combination thereof.
Template reports are available in bar or pie charts and can be exported into Excel or PDF for future review.
Learn More About IntegrityCounts
Get your program up and running quickly. Contact us today!
Global Hotlines and Case Management
We have the tools to help you create and manage a speak-up culture.
Powerful Analytics
Gain valuable insights into the changes and events within your organization.
WBE Certified
The only Ethics Hotline provider on the market certified Women Business Owned.