According to a new report by Deloitte, Canadian financial institutions can gain a competitive advantage by making regulatory compliance a higher priority.
Canadian financial institutions came out of the global financial crisis relatively unscathed compared to others. However since 2008, Canadian and foreign regulators have introduced many new rules, and many financial institutions world-wide have been bustling to keep up.
Stricter standards in Canada have been seen too. The Office of the Superintendent of Financial Institutions (OSFI), Canada's regulator for financial institutions, has increased regulation by pulling the noose on mortgage rules and looking at what's called "bail-in" provisions, which would help to avoid taxpayer-funded bailouts for the largest banks.
Stricter global and domestic regulatory standards have seen many financial institutions already putting together their compliance teams to help internal departments meet the requirements. The Deloitte report states that the regulatory setting will continue maintain it's severity because of incidents like the Libor Scandal, where Royal Bank of Canada, along with 15 other financial institutions, allegedly participated in interest-rate rigging.
The report also states that financial institutions that don't make compliance a bigger part of their business, are holding themselves back and will more than likely miss opportunities.
It's Time to Be Proactive Instead of Reactive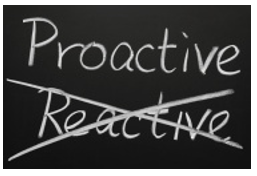 Simply put, a compliance program is a powerful tool for any organization to implement in their proactive measures to manage their risk. But financial institutions often view such a program as costly. One advisor at Deloitte, says "thinking of compliance as a 'necessary evil' hinders companies from taking advantage of opportunities. If you build compliance closer to the business, you build quicker and more efficient decision making." And good compliance practices can boost an organization's understanding of its own business, and result in more sophisticated data and metrics, and stronger communication between departments.
Drive compliance throughout the business. Don't put it in its own silo separated from normal day-to-day business with no interaction between the two. Embedding compliance increases a financial institutions insight into how regulations might affect customers, product offerings, and the business model. As well, financial institutions can adapt to regulations before they come into force, allowing them to be the first to take advantage of new offerings.
There is no one-size-fits-all solution for adopting a strong compliance program and whistleblower hotline. A good solution should be customized to fit the varying needs of different organizations. It should be dependent on the needs and ethics strategy of an organization. The Integration of a strong compliance program, including a whistleblower hotline, is a powerful tool for any organization to implement in their proactive measures to manage their business success.
WhistleBlower Security prides itself as a global independent certified ethics reporting provider for businesses, and is committed to promoting a culture of integrity, collaboration and transparency for all our employees and clients. With a 24/7/365 whistleblower hotline, employees can be assured that all of their ethical concerns will be heard and addressed.


Source: http://www.theglobeandmail.com/report-on-business/regulatory-compliance-pays-off-report-tells-canadian-firms/article19224749/