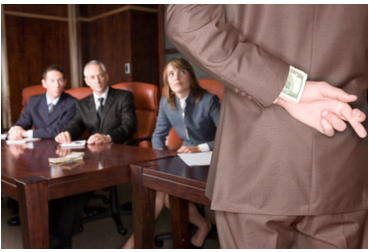 It's Fraud Prevention Month and fraud is a growing problem in any business. According to a 2013 survey commissioned by The Economist Intelligence Unit, every type of fraud examined in the survey saw an increase. Organizations saw an increase of 9% in 2013 from 2012. That's a significant number in this context. We've come up with a few warning signs that might signify employee fraud in your organization.
Warning Sign #1:
If your organization deals with a lot of suppliers, one warning sign is a supplier that insists on dealing with only one employee. This could indicate purchasing fraud. It works like this – a supplier will inflate an invoice amount. The corrupt purchasing agent might receive a kickback payment from that supplier for goods purchased. The kickback will often be paid directly to the employee by the supplier. Another scenario is that the employee might set up a fictitious purchasing company and then submit invoices for payment.
Warning Sign #2:
Employees who do not take their annual vacation. A possible reason for this is that the employee does not want his or her responsibilities to be covered by another employee who could potentially detect any fraudulent acts committed by the vacation-time hoarder. It's a good idea to enforce vacation-time to be taken by employees – it's a great time to refresh oneself anyway!
Warning Sign #3:
A change in lifestyle. If an employee is suddenly living beyond their means, it might be a sign of fraudulent activity. These fraudsters are desperate for funds that go beyond their income. So if an employee drives home from work with a "lemon" for a car, then shows up for work the next day and shows off his or her brand new, shiny luxurious SUV, you've got to wonder where the funds came from.
Warning Sign #4:
An employee who is secretive about a job function or who has a habit of constantly postponing scrutiny, like internal audits, or reviews, might have something to hide. If this type of behaviour is repeated time and again, it might be worth digging into the situation and investigating.
Warning Sign #5:
Do you have an employee who is suddenly developing defensive mechanisms? Perhaps they invent illnesses in an effort to avoid confrontation and as a buffer to any challenge they might perceive. If an employee is fabricating defence mechanisms in an effort to prevent questioning over their work performance or business transactions, it's definitely worth being extra vigilant about this.
A whistleblower hotline is the single most effective tool available to improve ethics reporting. Waste, fraud and abuse of authority can all be combated by having an independent reporting mechanism that uses employees to report malfeasance. WhistleBlower Security should be one of the first places your employees can go to report on any perceived wrongdoing.
Whether it's for regulatory compliance, financial transparency, corporate governance, employee, client, investor or patient relations, becoming WhistleBlower Secured™ will enhance your corporate integrity and empower your employees to contribute to an ethical workplace.