Create a Team – Live by the Code
Searching through LinkedIn, I came across the following article on operating successful businesses in the same manner that the Navy SEALs would. As a team.
I liked the comparisons that the author makes between Navy SEAL operations and businesses. I've expanded on a few of the points below to give a little more information.
In the military, shared beliefs, consistent values, and of course, deep traditions, are the route of the entity. Certain rank protocols exist regardless of the military branch, you follow orders, you communicate clearly, and of course, you give more than your best. They live by the code, die by the code. But in business, it's a little unclear what values an organization operates with. There are varying cultures, industries, international laws, all from the top down. It's a little vague.
The military has been around more than most organizations – its culture is traditional, formed historically and it is what it is, no questions. But in organizations, cultures are based on differing leadership styles, and other variables that can create challenges for employees at all levels. If you're in the military and you stick with it, you pretty much know your path to promotion, it's clear. But in the business world, there really is no defined career path for employees to manage their careers.
What we do know about the Navy SEALs (they portray it pretty well in the movies), is that their function and team work is one of its top strengths. Makes sense when your life is literally on the line along with your team behind you. You need to be functioning at such a tight level – many depend on it.
So what can businesses do to ensure their teams are functioning at similarly solid levels? Here's a bit of insight on what can be applied.
Navy SEALs Do Not Discriminate
It doesn't matter what your culture or beliefs are. It doesn't matter what your shape or size is. What matters the most is a SEAL's demeanor. SEALs do not display superiority or arrogance. What a SEAL does is display confidence and mental abilities for the good of the team. In business, there can be a sense of superiority in the hierarchy. Many employees can be too afraid to speak up when they see wrongdoing for fear of retaliation. A great organizational culture starts at the top and works its way down by example. And employees are encouraged to speak up for the good of the team.
Every Person Counts
SEALs don't settle for mediocrity. SEALs need to know 100% that the person behind him has his back and will be able to save his life. In business, this similarity could mean the death of an organization. Corporate leaders need to be able to have the same confidence about their management teams. Employees' livelihoods depend on it. Great organizations know that all employees from the top down count in the success of the company. Everyone has their own important part to play.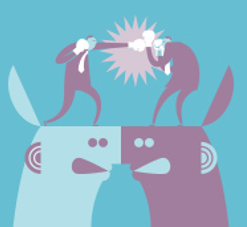 SEALs Train All the Time
If a Navy SEAL is not deployed in combat, they are more than likely honing their skills and training. But in business, most executives spend the majority of their time executing. Yes executives need to direct their management teams in the daily running of the successful organization. But it's also important for the top folks to be training for new employees or even a veteran team. Times and ideas change and executives need to be able to keep up with these changes to ensure the success of the business. Navy SEALs spend thousands of hours honing their skills, and so should employees in a profession.
Everyone Is Expendable
Every SEAL is trained in a nearly identical manner, so no one SEAL is indispensable to the unit or the mission. This is because it's understood that during combat, anyone can be lost at any time and the rest of the unit needs to be able to carry on the mission successfully. Now of course in business, we don't lose our employees to combat in such extreme conditions. But businesses need to ensure they have a contingency plan in place to be able to cover those unforeseen circumstances that happen all the time. Employees move on, go on vacation, change positions, get promotions within their organization. The team needs to be able to carry on without any delays.
You Never Know How Strong Someone Is Until They Are Tested
Most people are tougher and more resilient that they appear or imagine themselves to be. In SEAL training, instructors prove that their men are capable of 10 times more than what they ever imagined. Lives depend on it. Most of us know that this is probably one of the toughest jobs on earth and only a select few can actually achieve this. But in business, you team can be just as tough working together as a team. Tragedy happens, disasters happen, media negativity can ruin a business – until your team is really tested, you can never be too sure who will step up and who will falter in any given situation. But there's definitely some employees in your organization who are capable of handling stressful situations.
We believe that a strong company culture is the heart of a successful organization. We strive to help organizations build a culture of integrity, transparency, and accountability. An organization's culture is different in all industries: we believe there's no one-size-fits-all solution for building and adopting a strong organizational culture. But we do strive to provide all organizations with a solution that can be customized to fit the varying needs of different organizations, while helping to build and strengthen internal cultures. One step in building a successful culture is with the integration of a strong compliance program, including a whistleblower hotline. This is a powerful tool for any organization to implement in their proactive measures to ensure their business success and grow their strong culture where employees can thrive.
WhistleBlower Security prides itself as a global independent certified ethics reporting provider for businesses, and is committed to promoting a culture of integrity, collaboration and transparency for all our employees and clients. With a 24/7/365 whistleblower hotline, employees can be assured that all of their ethical concerns will be heard and addressed.



Source: https://www.linkedin.com/today/post/article/20140627170622-9613993-navy-seal-lessons-for-operating-successfully-as-a-team?trk=nus-cha-roll-art-title