SEC: You Can't Shut Whistleblowers Up!
The SEC Has Made It Clear That You Can't Shut Whistleblowers Up!
In fact they've recently fined a company for using restrictive language in confidentiality agreements that could put a stop to blowing the whistle in that company.
Well that's one way to prevent the SEC from finding out about questionable actions within a company. Does it work? No way! Not according to whistleblower protection Rule 21F-17 under the Dodd-Frank Act. And if you're caught, you'll pay the price.
The Securities and Exchange Commission today announced its first enforcement action against a company for using improperly restrictive language in confidentiality agreements with the potential to stifle the whistleblowing process. It's even asked several companies for years of employment contracts, nondisclosure agreements, and other documents formed with their employees.
Chief of the SEC Office of the Whistleblower Sean McKessy said that "his office would be on the lookout for contracts that have a chilling effect on employees' bringing allegations of wrongdoing to the SEC's attention. In a 2014 Law 360 article, McKessy warned "If we find that kind of language, not only are we going to go to the companies, we are going to go after the lawyers who drafted it."
That brings us to now: Houston based engineering firm KBR Inc. was charged with violating the whistleblower protection Rule. How they did this: they "required witnesses in certain internal investigations and interviews to sign confidentiality statements with language warning that they could face discipline and even be fired if they discussed the matters with outside parties without the prior approval of KBR's legal department". Some of these investigations included allegations of possible securities law violations… so yeah the SEC came forward and said not a chance – you can't prevent whistleblowers from coming forward to report on these allegations as it violates "the rule".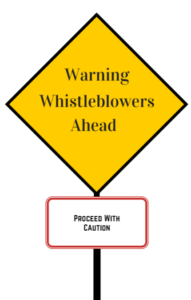 To settle the SEC's charges, KBR agreed to pay a $130,000 penalty, and the company amended it's confidentiality statement, adding in language that makes it clear to employees that they are free to report possible violations to the SEC and other federal agencies, without fear of retaliation – and of course under KBR approval.
I can just imagine the conversation that may go on between management and potential whistleblowers during these internal investigations:
Whistleblower: "Hey boss, what we're doing here, I think it's in violation of securities laws. It's bad and I think I may have to report it. May I?"
Management: "No, we know full well it's bad and you can't report it!"
Whistleblower: "But why??"
Management: "Because you signed a confidentiality agreement so if you do, we're coming after you, so neaner neaner…"
"By requiring its employees and former employees to sign confidentiality agreements imposing pre-notification requirements before contacting the SEC, KBR potentially discouraged employees from reporting securities violations to us," said Andrew J. Ceresney, Director of the SEC's Division of Enforcement.  "SEC rules prohibit employers from taking measures through confidentiality, employment, severance, or other type of agreements that may silence potential whistleblowers before they can reach out to the SEC."
A Lesson to All Companies out There
Now that's not to say that there were any instances where employees needed to come forward to report on any wrongdoing, and were halted in their tracks by this blanket prohibition before doing so, but it's clear that any form of communication prevention like this could have potentially disastrous affects on any company.
As it stands, KBR is only paying $130,000 to settle this issue. But just imagine if there was a serious violation. The act of preventing employees from coming forward to report on wrongdoing does not bode well with the SEC and will make your resulting fine that much bigger. Into the many millions bigger.
The SEC has been known to lessen violations or put them aside altogether depending on that company's role in the situation – was there a reporting hotline that employees were able to use; what does the code of conduct look like; how well did the company attempt to investigate and remedy the situation; etc.
However, they will come after a company, sharp talons at the ready, if there is any evidence of attempting to hide wrongdoing, and that includes preventing employees from speaking up.
KBR no doubt nipped this one in the bud by changing its agreement to make it clear that current and former employees will not have to fear retaliation or seek approval from the company's lawyers before speaking up to the SEC.
This should act as a lesson to other companies out there to similarly review and amend their existing and historical agreements that in effect could prevent their employees from reporting potential violations to the SEC.
Get that speak-up culture created! Download an eBook to learn how.