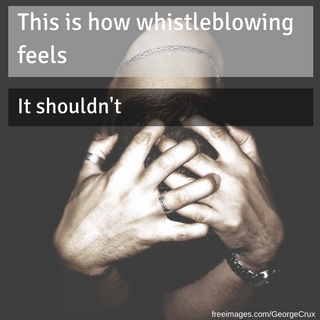 Stories take us places. They follow, with purpose, one or more characters through a series of events. By the end, they arrive at a target destination, fulfilling their reason for having been told.
Some whistleblowers have incredible stories to tell.
And the journey their stories take the reader on, mesmerizing as they may seem, leave the reader wondering why the story was ever able to be created in the first place.
If it wasn't for the cast of characters and series of events, there would be no story.
Most whistleblowers would have preferred no story at all. Unfortunately, the very act of coming forward in the first place, unleashes a tornado of events that would leave most outsiders questioning the integrity of some companies and their leaders.
One such whistleblower ignited a four-year battle with her employer, by coming forward to speak of unethical actions happening at her place of work.
Her story took her through retaliation, emotional distress, heavy drinking, and being so poor she had to raid her parent's pantry for food.
Because she had a perceived mark of disgrace hovering over her head preventing her from finding another job.
This whistleblower is also a rarity. Her story ends quite happily. She succeeded in bringing to light abuses at a powerful corporation that wanted to keep those abuses hidden.
On Nov. 17, Ms. Williams won a four-year legal fight against her former employer, Wyndham Vacation Ownership, the nation's largest time-share operator. A jury awarded her $20 million covering lost earnings, emotional distress, and punitive damages.
"Corporate America… change your behavior — or a jury will change it for you."
One of two lawyers who represented Ms. Williams, had these strong: "I hope this case sounds an alarm for corporate America," he said. "Change your behavior — or a jury will change it for you."
Like most whistleblowers, coming forward to speak up about corporate America, Ms. Williams experienced being branded a troublemaker, being fired, being unable to find work, breaking up with a loved one, finding comfort in drink, and resorting to parental help for basic needs.
But she had faith in an unbiased jury and judge.
They heard her story of being fired for complaining about questionable sales tactics she witnessed while at the company.
They heard that she came forward to report to superiors about sales representatives preying on elderly time-share owners to get them to increase their holdings.
She told of representatives falsely telling customers that Wyndham would buy back ownership stakes that were no longer wanted.
She also told about credit card accounts that were opened for buyers without their knowledge and approval.
Like plenty of sales-driven organizations, facts revealed a 'wild west' type of environment where sales representatives made false promises to customers that differed from terms on contracts that were signed.
And as typically seen in many stories, those tasked with leading or managing, were paid based on performance of their sales representatives.
A recipe for fraudulent behaviour we see over and over.
Sales goals that are way too impossible to meet if employees were to adhere to a company's policies and procedures.
In fact, Wyndham management came up with what was known as 'TAFT days'… 'tell them any frigging thing' to get the job done and the money in the door.
The 'do whatever you need to do' mentality that throws regulations and processes right out the window.
Here's where a story like this turns interesting.
Like many responses from other companies, Wyndham's general counsel has been quoted as saying that the incidents that were alleged to have happened "are not representative of what we stand for as a company in terms of our values and culture."
Also, like many companies, Wyndham set up an ethics hotline that employees could use to report on unethical activities and alert management.
Ms. Williams did report abuses on their ethics hotline, but when she did, her bosses began retaliating. According to testimony from a former high-level Wyndham executive, Ms. Williams was "not supporting the agenda there, was not being part of the system."
That leaves us questioning 1) were policies and procedures only put in place to make the company look good to the outsider, and 2) was an ethics reporting hotline established just to check off a 'to do' box?
These are certainly the questions many are left wondering after hearing reports of misconduct in corporate America and retaliation of their whistleblowers.
And when a jury hears that a company did everything possible to hide damning evidence, one wonders what was the point in establishing rules and an ethics hotline in the first place.
Save yourself the energy. You're going to be caught anyway. The truth always wins as they say.
When asked if she would do it again knowing what she knows now about the perils of whistleblowing, Ms. Williams said "Definitely. Protecting these vulnerable elderly owners, that was the main reason I was able to continue."
That's the spirit Ms. Williams. A true inspiration to any employee hovering on the fence, deciding to come forward to report on wrongdoing or not.
Of course, knowing what Ms. Williams went through, many would wonder 'why stir the pot?'
Which is why companies need to start stepping up to the plate and walk the talk, lead by example, and embrace those who do come forward.
Learn about what happened, and make it not happen again.
And of course, thank your whistleblower.
Wondering if you actually need a whistleblower hotline? Here's a quick way to stop wondering.



[citesource][source]'My Soul Feels Taller': A Whistle-Blower's $20 Million Vindication[/source]
[/citesource]